Hey there, beautiful people! Can you feel that? Spring is in the air, and you know what that means – it's time for a fresh start and a brand-new look! If you're anything like me, you're itching for a change, and what better way to welcome the warmer weather than with a trendy new hairstyle? This season, it's all about effortless elegance and embracing your natural hair type. So, sit back, relax, and let's dive into the hair trends that are about to take spring by storm!
The Buzz About Spring Haircuts
We've all been cooped up indoors during those chilly winter months, and now it's time to let our hair down, quite literally. Spring is the season of renewal, and what better way to freshen up your look than with a fabulous haircut? From sassy bobs to playful bangs, the options are as endless as your imagination. But don't worry, I've got you covered with the lowdown on the chicest cuts that'll have everyone turning heads.
Mini Fringe and Shoulder Length
Alright, let's start with a little sass – mini fringe! If you're not quite ready to go all in with a dramatic chop, this style is perfect for you. Those mini bangs will give your brows and cheekbones the spotlight they deserve.
Textured Collarbone Cut
Looking for a style that's both charming and chic? Look no further than the textured collarbone cut. It's all about that easy-breezy vibe, and it works like magic with layers and texture.
Shaped Bob
Say goodbye to your average chin-length bob – the shaped bob is here to steal the show. Short, choppy layers create volume and shape, while curtain bangs add that touch of finesse.
90s Bob
Guess what? The '90s are back in action, and they're making a statement. This sleek, chin-framing bob is giving us all the nostalgic feels and a serious dose of style.
Curtain Bangs
Now, if you're looking to boost your confidence in an instant, curtain bangs are your go-to. These babies are the epitome of cool, and they'll have you strutting your stuff like a runway model.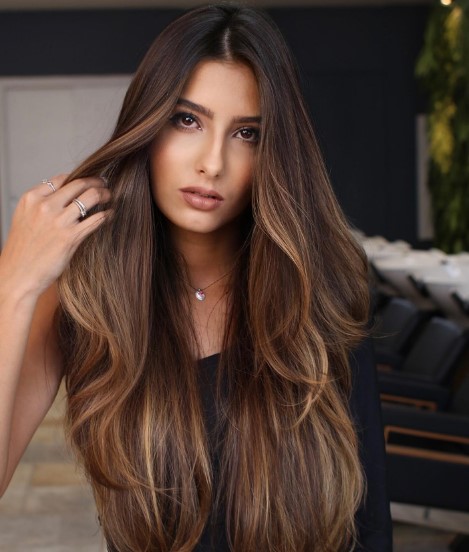 Trendiest Haircuts & Colors for Spring 2023
Hold on to your hairbrushes, because we've got a lineup of trendy haircuts and colors that'll leave you craving a salon visit. Whether you're a fan of classic cuts or bold hues, this spring's got something special for you. Let's dive into the top picks that'll make your hair the talk of the town!
#1: Middle-Parted Blunt Bob Style
Ladies, if you're conquering the corporate world, this one's for you. The middle-parted blunt bob is the epitome of sleek, professional, and low-maintenance. Perfect for those early mornings when you need to rock that office glam.
#2: Two-Toned Hair with Beach Waves
Feeling adventurous with your hair color? Try a playful two-toned look paired with beachy waves. It's the perfect way to add a pop of pastel while keeping that natural charm intact.
#3: Pixie Mullet with Micro Bangs
Calling all the fierce and edgy souls out there! The pixie mullet with micro bangs is a daring choice that's sure to turn heads wherever you go. Who says you can't have it all?
#4: Long Curly Shag with Curly Bangs on Women Over 40
Ladies over 40, this one's tailored just for you. The long curly shag with curly bangs is a modern twist with a hint of '80s nostalgia. Embrace the playful vibes and show off those curls!
#5: Straight Copper Shag with a Fringe
Got straight hair? Looking for a change? The straight copper shag with a fringe is your answer. The copper hue adds vibrancy, while the cut adds volume and movement. It's a win-win!
#6: Brown-Blonde Balayage Ombre Hair
If you're all about that low-maintenance life, the brown-blonde balayage ombré is your match made in hair heaven. The shadow root keeps things chic and easy to maintain.
#7: Pink Champagne Highlights for Long Dark Hair
Dark-haired beauties, it's time to spice things up! Add a touch of pink champagne highlights to your long locks. The results? A stunning dimension that'll make heads turn.
#8: Icy Blonde Mid-Length Hair
Say hello to freshness with an icy blonde mid-length cut. It's all about keeping it light and breezy this spring. Don't forget to show your blonde some love with the perfect treatment.
#9: Butterfly Locs for Black Women
Ladies, if you're ready to spread your wings, try the gorgeous Butterfly Locs. This youthful look is perfect for any occasion, and it'll have you feeling light and free.
#10: Tapered Pixie with Bangs for Women Over 60
Hey, fabulous ladies over 60, this one's for you! The tapered pixie with bangs is your secret weapon for a flattering and stylish look. Those bangs? They're the key to highlighting those eyes.
#11: Layered Shag Cut with a Cool Brown Hue
Effortless chic is the name of the game with the layered shag cut. Add a cool brunette hue to the mix, and you're ready to conquer spring with style.
#12: Angled Undercut Pixie
Want to beat the heat? The angled undercut pixie is your answer. It's edgy, it's cool, and it's perfect for a refreshing springtime look.
#13: Vivid Pink Lob with a Black Dip Dye
Ready to make a statement? The vivid pink lob with black dip dye is the way to go. Get ready to stand out with this edgy and colorful combo.
#14: Wavy Red Hair with Blunt Bangs
Vivid colors meet professionalism with the wavy red hair and blunt bangs combo. Keep that color vibrant and sassy with the perfect shampoo.
#15: Short A-Line Bob with Pastel Rainbow Hues
Feeling flirty and fun? Embrace the season with a short A-line bob in playful pastel rainbow hues. Express yourself with these eye-catching colors!
Fresh Spring Haircuts to Elevate Your Look
Springtime isn't just about cleaning out your closet – it's about giving your hair a makeover too! Get ready to snip away the old and welcome the new with these fresh spring haircuts.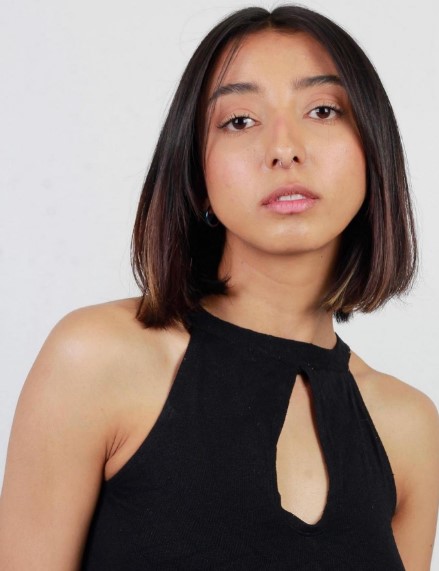 Captivating Cuts and Styles
Let's dive deeper into some captivating haircuts that are destined to make you the center of attention.
C-cut: Length, Fullness, and Movement
Imagine a style that's all about length, fullness, and movement – that's the C-cut! It's like a gentle curve that flows seamlessly, giving the illusion of longer hair. Talk about adding grace to your locks!
Wolf Cut: Effortless Body and Bounce
Want to rock that vintage-meets-punk-rock vibe? The wolf cut is your go-to. With bouncy layers and effortless body, it's a match made in hair heaven for anyone seeking low-maintenance beauty.
Wispy Korean Air Bangs: Subtle Statement
Make a subtle statement with wispy Korean air bangs. These thin, piece-y bangs are perfect for those who want a touch of flair without overwhelming their face. It's all about creating a harmonious look with lighter fringe and those chic side chunks.
Bixie: Messy, Free, and Textured
Enter the bixie – a hybrid of a bob and a pixie. It's all about that messy, free-spirited vibe with loads of texture. To master this look, add some volume with a lifting root spray and finish it off with an airy texture spray.
Bob/Lob: A Classic That Endures
Don't worry, the bob is here to stay, and it's bringing its cousin, the lob, along for the ride. With variations to suit your style, these cuts range from chin to shoulder length, giving you plenty of room to play.
Octopus Haircut: A Modern Shag
Get ready to embrace "hard-to-miss hair" with the octopus haircut. This modern shag boasts short layers in the front and cascading layers in the back. It's like a stylish update to the classic shag, complete with curtain bangs or cheek-grazing fringe.
Bottleneck Bangs: Curtain Bangs with a Twist
Looking to enhance your look with a feminine touch? Say hello to bottleneck bangs – a unique take on curtain bangs. Short in the center and longer on the sides, they're flattering, versatile, and perfect for all hair textures.
One-Length Cut: Clean, Crisp, and Chic
Sick of layers? Go for a clean and crisp one-length cut that adds thickness and volume. Whether you're rocking a shorter bob or flaunting longer locks, this style is all about easy elegance.
Shaggy Layers: Effortless Movement
If you're blessed with wavy locks and medium density, shaggy layers are your ticket to hair nirvana. Effortlessly chic, these layers bring out your natural texture. Just mist your hair with sea salt spray for that carefree, beachy look.
Wrapping Up
There you have it, trendsetters – a guide to the hottest spring haircuts and styles that'll leave you ready to conquer the world. Spring is all about renewal, and what better way to start anew than with a fabulous hair transformation? From bold pixies to classic bobs and everything in between, this season's got something for everyone. So go ahead, book that salon appointment, and let your hair steal the spotlight. After all, life's too short for boring hair!