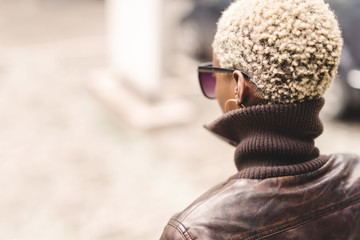 Women love hairstyles that are trendy and stylish and as at now, short hair is what is trending. Short hair for black women is best when it takes the form of their natural hair. The natural hair for most black women their natural hair is characterized by thick curls mostly black or brown.
Advantages of keeping short natural hair for black women include:
Easy to style and you can just use your hands as a comb;

You can easily wash the back of your head without struggle;

You don't have to worry about tangling;

Your hair dries really fast thus you can wash it as often as you wish.
Here are some great short natural hairstyles suitable for black women:
Long Spring Curls Tapered Pixie
In this hairstyle, hair is tapered on the sides and back and the top is left with longer strands of hair. A soft side part is okay and the top curls are left to flow freely on the sides and front to bring out springy curls. This hairstyle just needs good natural hair food to keep your curls natural and healthy.
Bouncy Crochet Bob
This is a shoulder-length soft coil bob. It utilizes your natural hair's curls. A side part or middle part will give it a bouncy shaggy look. Younger black women complement this hairstyle with a colored ribbon for a neater look.
Curls and Cornrows
This is a haircut that is characterized by a few cornrow braidings on one side and naturally curly hair on the other side. The curls are styled to cascade in different ringlets. It requires quite some maintenance to keep the curls neat and springy but brings out the best of your natural hair.
Tight Voluminous Curls with Bangs
This is a haircut that is purely letting your natural hair down. It is a single length haircut that has the hair to chin length. Apply coconut oil to your natural hair and use a hairbrush to comb it into a neat tight fluff. Your front strands can be cut shorter so as to give the look soft bangs. This style gives your hair a shiny natural glow.
Combed out Afro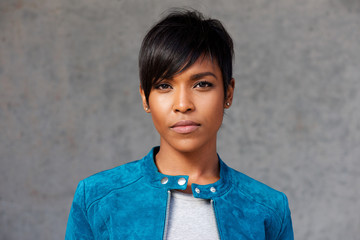 This is one of the most popular natural hairstyles among black women. Hair is cut short as per taste and preference and you just comb it into an afro. You can stretch the sides and hold with a bobby pin, or add a flower or a ribbon if you want a decorated finish but it is perfect as a curly springy afro.
Black women who want to celebrate their thick and curly natural hair will look amazing in any of these styles. They are easy to attain and will take less time to style every day as well as reduce the need to visit your stylist often.