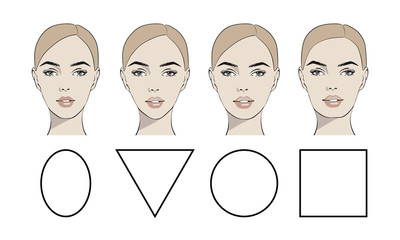 There are many hairstyles for women that will give them great and amazing looks. However, how a hairstyle looks on you is highly determined by the shape of your face. The very first step when any woman is choosing a hairstyle is to find their face shape. Face shapes are generally categorized into:
Oval faces;

Rectangle faces;

Square faces;

Round faces;

Diamond faces;

Heart-shaped.
It is important to find a hairstyle that will perfectly complement your face shape. Let's look at hairstyles for the most common face shapes.
Rectangle faces
This is also referred to as elongated face shape. In order to find a great hairstyle, focus on giving your face horizontal volume so as to soften the sharp angles. This face shape is well-favored by longer hairstyles mostly with layers. A short bang or a long one that is side swept will also look great. If you prefer short haircuts, consider a blowout pixie or a wavy bob. Rectangle faces look stunning with ponytails.
Oval Faces
Women with this face shape are very fortunate. It is a shape that suits a wide variety of hairstyles. If this is your face shape and you prefer long hair, go for long wavy locks and you may add layers. A short blunt bob will also look amazing on you as well as an asymmetrical bob. A medium length wavy layered lob resting on the shoulders will also look great.
Square Faces
When your face is square, consider hairstyles that soften your broad forehead and wide cheekbones. Your jawline is strong so get a style that showcases it well. A side-parted haircut will compliment you well and tucking one side behind your ear will complement your jawline. A short layered bob is perfect and if you love bangs, get long side-swept ones.
Heart Faces

If this is your face shape, focus on haircuts that decrease your brow width and puts more emphasis on the lower half-width. The best hairstyle for this shape is a side-swept medium or long cut. If you love short hair, try an asymmetrical side-swept bob. Waves or curls will give this shape a better appearance and so will a side-parted pixie that is longer on top.
The best way to find a great hairstyle for your face shape is to identify the features of your face shape. Divide them into those that need to be enhanced and those that you need to draw attention from. Ensure you also look at the previous reputation of your preferred haircut to persons with your face shape.